ISO9001 ja ISO14001 kvaliteedisüsteemide audit oli edukas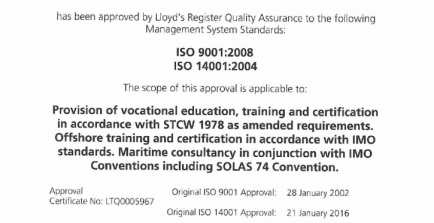 Dear customers and partners,
Reval Marine & Offshore Training has again successfully renewed its ISO9001 and ISO14001 quality management certificates. Further, we have extended our scope of quality management system to "Offshore training and certification in accordance to IMO standards". Quality and environmental management system audit was carried out by Lloyds Register Quality Assurance.
Reval Marine & Offshore Training is committed to high-quality and environmentally-friendly service to its customers and considers important to minimize the impact of its activities on the surrounding environment.
Yours faithfully,
Reval Maritime School