Meie MCRM õppekava sai kõrge tunnustuse osaliseks.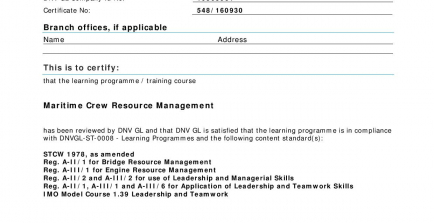 It is our pleasure to announce that our MCRM (Maritime Crew Resource Management) learning program has been assessed by DNV against all the STCW leadership and management requirements at the Operational and Management levels. MCRM program is in compliance with the IMO model course 1.39 Leadership and Teamwork as well with STCW Convention:
Reg. A-II/1 for Bridge Resource Management; Reg. A-III/1 for Engine Resource Management; Reg. A-II/2 and A-III/2 for use of Leadership and Managerial Skills; Reg. A-II/1, A-III/1 and A-III/6 for Application of Leadership and Teamwork Skills.
You can find a copy of the Certificate in our Approvals and Documents folder.
Management of Reval Marine and Offshore Training